Shanghai, China —— Recently, AKRO-PLASTIC, the professional modified engineering plastic compounds supplier from Germany, made a stunning appearance at China International Plastics & Rubber Industry Exhibition (CHINAPLAS) with its cutting-edge product portfolio and innovative technologies.
In addition to traditional PA 6, PA 6.6, PPA, and PA / PA6 alloy materials and color matching products presented at the show, AKRO-PLASTIC also showcased its unique lightweight solution, a new plasma technology for bonding plastics to metals as well as the Innovative Compounding and Extrusion (ICX®) technology.
Lightweight solution - carbon fiber reinforced series ICF plastics
AKRO-PLASTIC's brand new carbon fiber reinforced series ICF plastics use PA 6, PA 6.6, PPA or semi-aromatic PA 6.6 (AKROLOY®) as their substrate, making it the star products in the market. Their carbon fiber content ranges between approximately 10% to 40%. Besides the standard characteristics of carbon fiber reinforced materials such as high modulus and high specific strength, ICF products also offer other significant advantages like easy formability and low cost and so on .
The ICF Series products are already widely used in automobile chassis, interior and exterior trims, engine perimeters and various functional structural components.
The clutch pedals used in BMW cars, made of AKRO-PLASTIC's ICF material, are one of the success stories . Featuring a carbon fiber content of approximately 10% and made with the water-aided injection molding technology, this component offers more outstanding overall mechanical properties by reducing weight by 10%, achieving a breaking strength up to 1,100N and providing 25% more rigidity. This component together with the pedal bearing block won the first prize in the power train assembly category at the SPE award-giving ceremony in 2016.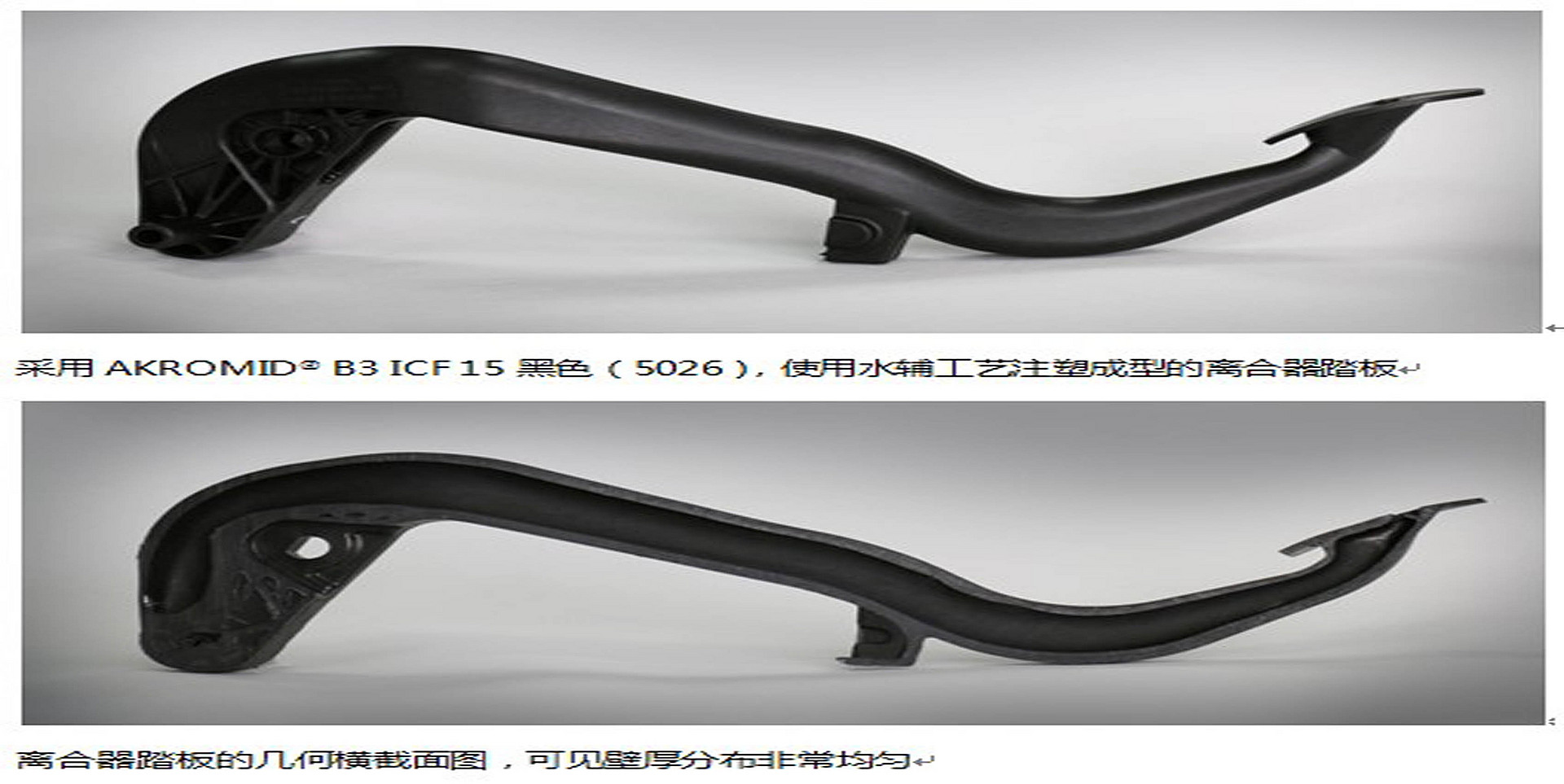 New Plasma-SealTight® plasma sealing and bonding technology

Bonding between plastics and metals is very common in many industrial applications. Without a special sealant, however, moisture, air or other media will still penetrate through the bonding surface of the two materials. In order to avoid component failure due to penetration, Plasmatreat and AKRO-PLASTIC have jointly developed a new application that utilizes a new plasma sealing technique to provide tight bonding that is highly robust and media resistant. Compared to traditional processes, the new Plasma-SealTight® technology can significantly increase the strength and tightness of adhesion between plastic and metal.

In order to more accurately study the impact of preformed polymer and modified plastic of the plasma seal on the durability of plastic-metal bonding, AKRO installed a series of production units at its factory in Niederzissen, Germany, including a molding machine (Sumitomo (SHI) Demag), Plasmatreat equipment and 2 Kuka robots. The AKRO team tried to identify different factors affecting the bonding strength through tests to develop optimized metal-material combinations as the system solution.
The Innovative Compounding and Extrusion (ICX®) technology

"Stricter order delivery deadlines, consistent product quality, more diverse products, global supply capacity and extremely competitive pricing, all these constitute our competitive advantage," said Mr. Thilo Stier, Director of Global Sales and Innovation of AKRO-PLASTIC. "Our goal is to ensure customer satisfaction, maintain our competitive advantage and always remain invincible," he added.

ICX® is a technology jointly developed by AKRO-PLASTIC and its sister company, the extruder manufacturer Feddem. It can ensure consistent product quality between different batches regardless of the production environment and production time. Consisting of the same kind of equipment, peripheral techniques and unified process flow, this technology is used worldwide at all AKRO-PLASTIC factories . We use raw materials of the same quality and introduced the certified quality management system in our own laboratories to ensure superior product quality .
Innovation means combining knowledge with experience to enhance the core competitiveness of manufacturing technology. As a plastics modification supplier, AKRO-PLASTIC must stay close to its customers, understand production, pursue top quality and make continuous improvements in order to remain invincible in the increasingly competing global market of today.
About AKRO-PLASTIC

In 2005 AKRO Engineering Plastics (Suzhou) Co., Ltd. was founded in Suzhou and is a branch of AKRO-PLASTIC GmbH in Germany. In 2010 the factory moved to Wujiang, Jiangsu province . The company manufactures AKROMID® branded PA 6, PA 6.6 and PPA plastics, AKROLOY® branded PA 6.6/PPA alloy materials, as well as PBT compounds and color matching products . With a designed annual capacity of 20,000 tons, the AKRO Suzhou factory is equipped with completely the same advanced twin-screw extrusion production line, formulas and processes like the German and Brazilian factories to ensure consistent and stable product quality. With its comprehensive technical strength and collaborative ability in the engineering plastics field, AKRO-PLASTIC creates value for its customers. The customers benefit from product diversification, local production and customized application.