AKRO-PLASTIC to implement comprehensive carbon-fibre concept
AKRO-PLASTIC GmbH, specialists for over 25 years in innovative, application-orientated plastic compounds, has developed a complete process for the manufacture of a weight-saving polyamide compound reinforced with dry carbon-fibre roving. The development was carried out within a consortium of companies along the value chain and in partnership with the compounding line manufacturer FEDDEM GmbH & Co. KG.
AKRO-PLASTIC GmbH, located in Niederzissen, in the Rhineland-Palatinate region of Germany, has developed this new product range based on polyamide 6, polyamide 6.6, PPA and partially aromatic PA 6.6 (AKROLOY®). Reinforcement of these polymer types with carbon-fibre contents of between 10% and 40% has been achieved. These materials, such as AKROMID® B ICF 40, a PA 6-based compound, achieve a tensile modulus of 30,000 MPa and a flexural strength of 320 MPa with a breaking elongation of 1.8%.
AKROMID® A3 ICF 40, a PA 6.6-based compound, even achieves 33,000 MPa, with a flexural strength of 370 MPa.
The objective of this new reinforced product line is to drastically reduce the weight of high-strength components. The resultant cost of these products fall in line with glass-fibre reinforced compounds for the first time. Without the presence of any negative commercial factors preventing substitution, projects can proceed with assured success.
Together with partners PME Fluidtec and injection moulding machine manufacturer Engel, AKRO-PLASTIC demonstrated a production cell for clutch pedals at the Interplas trade show in Birmingham. The clutch pedal is made with AKROMID® B3 ICF 15 using a water-injection process. The moulded component is nearly 10% lighter than the same component made using a 30% glass-fibre-reinforced PA6, yet is 25% stiffer. This significant benefit is perfectly in line with the latest automotive industry requirements and is key to ensuring compliance with stringent regulations regarding fleet consumption taking effect in 2020.
The fact that a clutch pedal can be manufactured in such a sensitive process as the water-injection process is testimony to the high quality of this newly created product line.
The compounder see's great demand for this new series. "In addition to pedals and pedal mounts, we can quickly and easily reduce the weight of a number of large components currently made from glass-fibre-reinforced polyamide without losing sight of cost," explains Thilo Stier Head of Sales & Innovation at AKRO-PLASTIC. Components such as centre consoles, activated charcoal filters and control unit brackets could also benefit from further advantages of carbon fibre such as: electrical shielding, favourable thermal conductivity and low thermal expansion coefficients.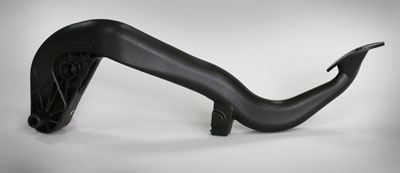 Figure 1: AKROMID® B3 ICF 15 clutch pedal made by water injection.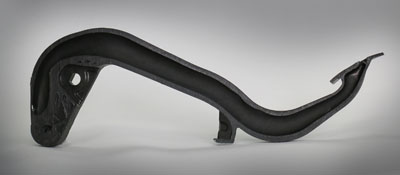 Figure 2: A geometry cross section of a clutch pedal showing uniformly distributed wall thickness.